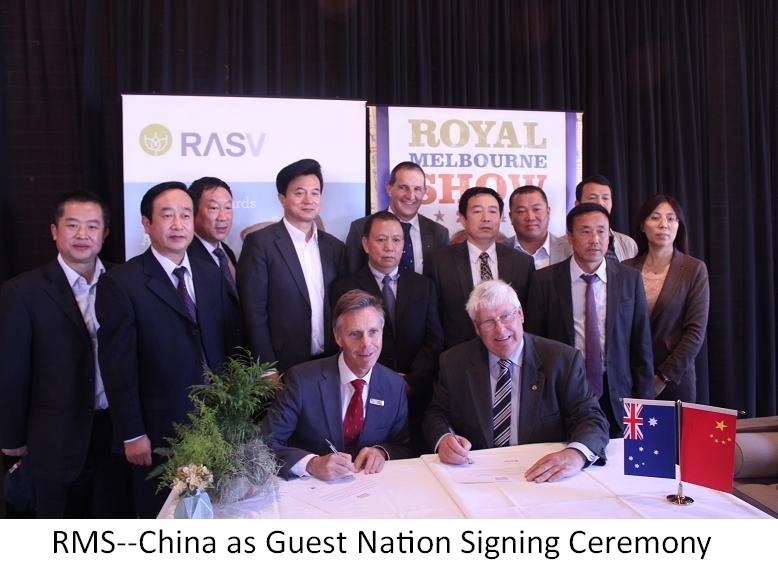 The Royal Melbourne Show is an iconic annual event with 500,000 visitors organized by the Royal Agricultural Society of Victoria (RASV) to showcase the state's agricultural production. During its 165 years history, it has previously invited two guest nations, and now, organized by AITA, China will be third one in 2015 and prelude to developing the China as Guest Nation exhibition at 2016 Royal Melbourne Show.
This year Australasia China Cities Summits & Business Forum in conjunction with China as Guest Nation at Royal Melbourne Show will provide series of sessions and topics in Melbourne, apart from the forums and sessions in the main events in Melbourne, there are a series of sub forum in NSW Southern Inland/Canberra, Northern Tasmania and Manawatu/Whanganui New Zealand.
2016 China as Guest Nation at Royal Melbourne Show will promote agriculture, culture, economy and trade and friendly exchanges by showcase Chinese culture to visitors. The attraction will be a platform to boost agriculture and cooperation in various fields in a bid to push forward the all-round cooperation between the businesses and organizations of China, Australia and Pacific Island countries on high-tech achievements transfer to Chinese businesses, import and export trade, investment and business attraction, investment merger and acquisitions.
These exhibitions will provide people with a great chance to know more about a real Chinese culture by variety of foods and goods with their unique and interesting stories, which could generate great interests among Melbourne and attract more people to come to Royal Melbourne Show.
FEATURE
CHINA CULTURE EXHIBITION
Traditional Chinese Eateries—trying the local food is the best way to experience culture.
Chinese Tea Fair—Chinese tea is famous all around the world with its extensive range, aromatic flavor and its good quality.
Souvenir and Artifact Fair—Chinese souvenir is a window to advertise Chinese culture to the world.
Language and spirit cultural show booths—schools of teaching Chinese language, martial art, Tai Chi, dragon & lion dances in order to welcome people to be involved more from the inner spirit of Chinese culture.
Tourism exhibition—all the interesting and meaningful experience may inspire the desire of having a real tour to China.
CHINA TRADE
As the ChAFTA comes to full effect in 2015, China Trade is designed to highlight the logistics, products, and services required by businesses and industries that trade with Australia's largest two-way trading partners.
INVESTMENT OPPORTUNITY
This focuses on the multitude of Australian and Chinese businesses from various industries with available investment opportunities to potential buyers or investors.