Australasia China City Summit & Australasia China Business Forum (
ACCS
&
ACBF
)
has
been
successfully held since 2009; it has already been developed and recognized as the leading summits and forums to provides a dynamic and interactive platform for participants in governments at all levels, business corporations and industry associations from Australasia and China to promote multilateral communication, exchange knowledge and views, identify a common agenda, develop shared solutions, set up friendship or sister cities, identify opportunities in trade, investments, education, culture, technology,
and
establish networks.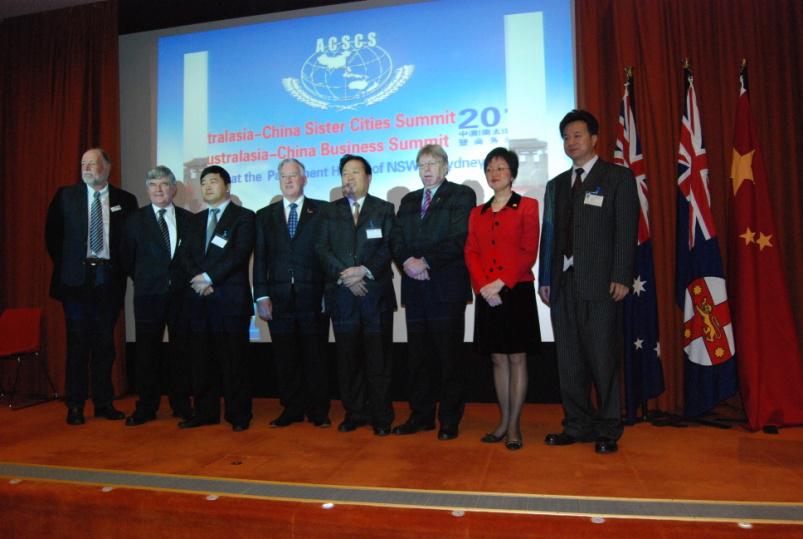 Since 2015,
Australasia China Cities Summits & Business Forum
started working
in conjunction with China as the Guest Nation at Royal Melbourne Show provide
a
series of sessions and topics.
· Australasia China Cities Summit
—
to discuss on
Eco City, Eco Economy and Cooperative or Sister City relationship
· Australasia Cities/States Promotion Session
— provides opportunities for cities/states/regional Governments/organizations in Au/ NZ/ Island Countries to promote themselves
and
projects in need of funding
to the Chinese investors.
·
Australasia China Tourism Forum
—
to
promote
promotion
inbound and outbound t
ourism
of China and Australasia countries, to draw
investment
to
hotel, theme parks and catering business
· Australasia China Investment Forum
— to
look for opportunities to invest and trade
in the fields of agriculture, tourism, wine, real estate, etc
; t
o introduce the investment policy and status of China provinces and cities and Australia states and cities
;
· Australasia China Infrastructure Forum
—
to attract
Chinese
investment promotion authorities under the 'One Belt, One Road' policy
to the local
infrastructure
projects
, to drive the economic development of cities/States/region
· Australasia China Agriculture Forum
—
to exchange on
agribusiness, agriculture technology and producing techniques with a
focus on ecological farming
,
organic food, sustainable agriculture
and
agriculture products processing
;
to promote
Australasia
fine food and agriculture products to Chinese business people
.
· Chinese Provinces/Cities Promotion Session
— Provide Australasian business, governments an insight of Chinese investment regulation and cooperative projects of the attending Chinese cities and provinces.
·
Australasia China Light Industry Forum — to provide an opportunity for Australasia distributors, importers and consumers to understand more Chinese light industry products.
Each year, there is a main forum at Melbourne and sub-forums in New Zealand and Pacific Island Countries, New South Wales, Victoria and Queensland.
In 2017, u
p to now we have around 200 major Chinese businesses, industry associations, mayors, ministers registered with us to attend, covering a wide range of sectors, which include agriculture, light industry, SMEs, wine, economic and trade departments, trade representatives, and industry professionals from about 40 Chinese organizations, cities and provinces.