Australasia China Agriculture Forum is one of the most important sub-forums of the Australasia China City Summit / Business Forum( ACCS/ACBF ) aimed at promoting intenational agricultural cooperation by introducing Australian fine food and agriculture products to Chinese business people to attract investors. In the meanwhile, the Free Trade Agreement(FTA) signed between China and Australia will give full expression to its indispensable and eficient role it has always played in the promotion of interantional agricultural exchanges and cooperations between these two countries, including the important trade in agricultural resources and further communications in the agriculture industry.
This time we have the honor of inviting Yang Chaobo, Deputy Minister of Agricultural Department of Sichuan Province, to be the keynote speaker of the Australasia China Investment Forum.
Agricultural Department of Sichuan Province delegation headed by Deputy Minister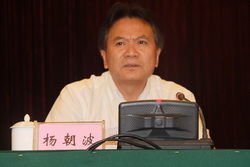 The delegation of 12 people is headed by Yang Chaobo, Deputy Minister of Agricultural Department of Sichuan Province.
Born in June 1962, Yang was from a family of the Yi nationality, one of the 55 Chinese ethnic minorities. He majored in Chinese Language and Literature and graduated from the Central Academy of National Minorities, joined in the Chinese Communist Party in September 1985. Yang once served as Deputy Secretary and Governor of Ganluo County, he also held the position of Deputy Director and Party Member of Sichuan Animal Husbandry Agency. Currently he is the Deputy Minister of Sichuan Provincial Department of Agriculture.
Sichuan is a province of the People's Republic of China located in the southwest whose capital is Chengdu, a very dynamic modern city and also a key economic center of Western China. The population of Sichuan Province is about 87 million and it covers a total area of 485,000 square kilometers, which makes it rank as the fifth largest province in China.
Agricultural Department of Sichuan Province was established as an institution of Sichuan Provincial People's Government to undertake various responsibilities concerning the development of agriculture in Sichuan and also the whole country's agricultural exchanges and cooperation. It implements guidelines, policies, laws, rules and regulations on agricultural sectors such as agricultural farming, animal husbandry, agricultural mechanization, agricultural reclamation and so on. It also guides industrialization of agriculture and the production of major agricultural products, such as grains, oil, livestock, aquaculture and so on. Furthermore, it undertakes the responsibilities of improving rural management system, agricultural disaster prevention and alleviation, the management of agricultural and rural economic information as well as foreign affairs about agriculture between different governments or different countries.
Australia is China's seventh largest trade partners, yet is the number one biggest destination of China's foreign investment. Australian agricultural sector is getting more and more favors from Chinese investors. Especially in recent years, the overseas investment of Chinese enterprises has grown rapidly and the investment scale of agricultural products and food processing is continuously increasing. Australia is a major food producer and livestock breeding land. Its current food production is enough to meet the needs of a population of 60 million yet it has less than 23 million people to feed. Which shows the great demand of exports of agricultural products and foreign investments to help develop its domestic economy.