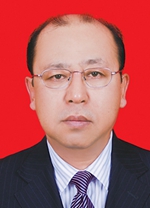 Ma Hongwei, Deputy Mayor of Urumqi, Xinjiang Autonomous Region is one of the most important keynote speakers for our Australasia China Cities Forum.
Urumqi Municipal Government of Xinjiang Autonomous Region Delegation led by the Deputy Mayor
Located in the north of Xinjiang Uygur Autonomous Region, Urumqi is the provincial capital as well as a key position with strategic importance on the ancient silk road. It is the intersection of culture and economy between the west and the east. It's also a place where the economies and cultures of central area and the western regions are greatly blended and integrated.
The administrative district of Urumqi covers an area of 14,200 square kilometers. With a population of 5 million, Urumqi has jurisdiction over seven districts and one county, two development zones of national level and an export processing zone. The GDP of this region totaled 250 billion last year and per capita GDP was 11,346 US dollars.
Ma Hongwei, Deputy Mayor of Urumqi, is leading this delegation of 12 people. Born on June 6, 1962, Ma was Muslin Chinese and a Urumqi native who joined the Chinese Communist Party in September 1992 and once served as the Vice Chairman of Urumqi CPPCC. Appointed at the 21st meeting of the 15th Standing Committee of the Xinjiang Urumqi People's Congress on December 10, 2014, Ma is now the Deputy Mayor of Urumqi City.
Australasia China Cities Forum
With the theme of Eco City, Eco Economy and Cooperative or Sister City relationship, Cities Forum is a key sub-forum of the great event – Australasia China Cities Summit & Business Forum (ACCS&ACBF) concerning the hottest topic of cities, such as urban and regional planning, architecture and landscape design, urban construction and management, real estate, urban traffic, urban ecology, etc. Sister cities and friendship cities are both important forms of promoting the exchanges and cooperation in various fields. There will be a lot of Chinese cities and provinces and also quite many cities from Australasia countries coming to attend the forum and to exchange ideas about the related issues of modern cities. This session will provide them with an excellent opportunity and platform for Chinese and Australasian mayors to establish friendship/cooperative city relationships and to talk about Eco City, Eco Economy to share experiences in the development of cities.